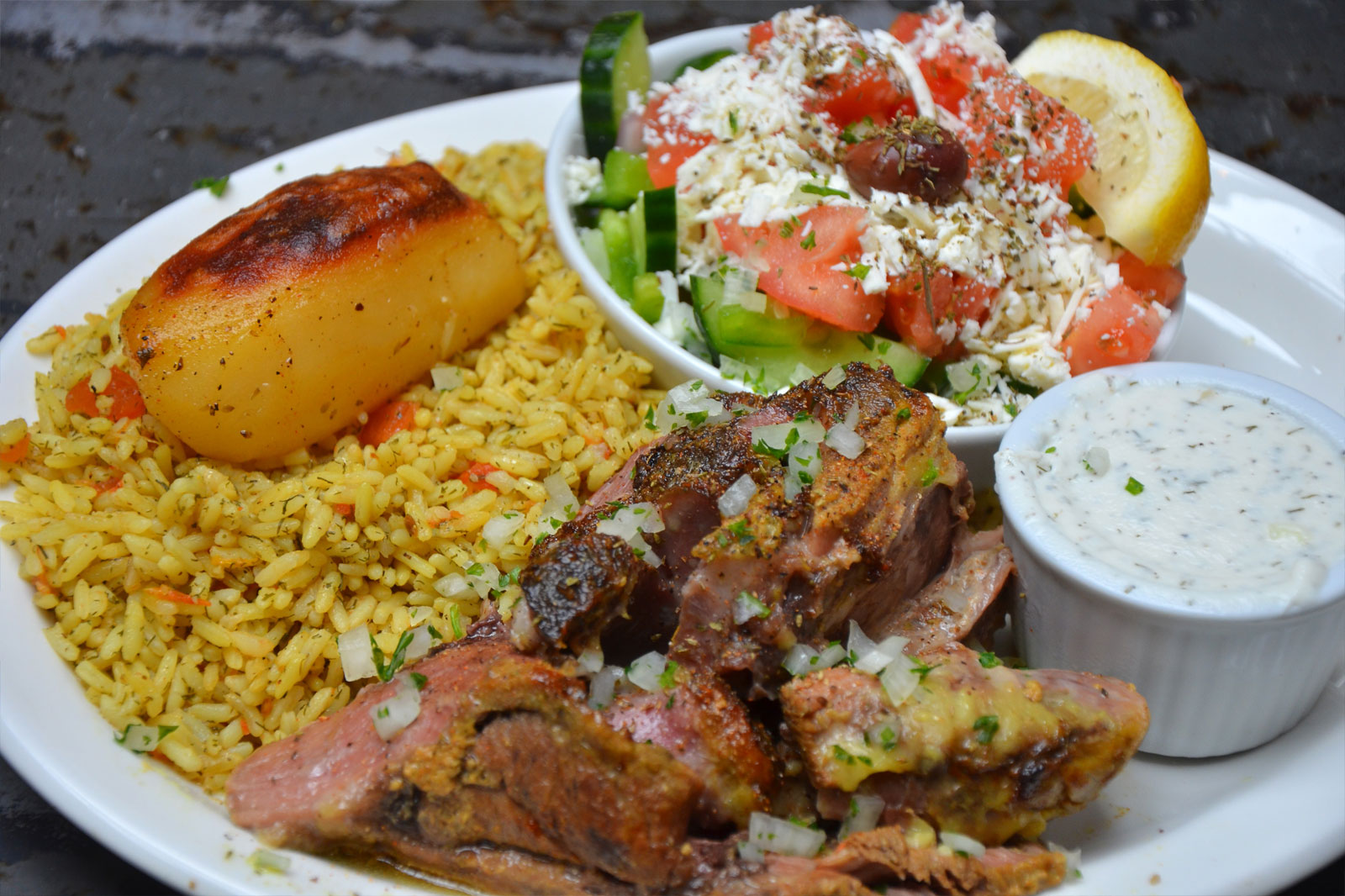 Desserts
Baklava – Layer upon layer of filo, chopped nuts, butter, and honey syrup
Floyeres – Rolled baklava
Koulourakia – Traditional twisted butter cookies
Pasta Flora – Greek jam tarts
Melomakarona – Traditional Christmas cookies, drenched in honey syrup and sprinkled with nuts
Kourambiethes – Delicate butter cookies sprinkled with powdered sugar
Loukoumades – Greek donut treats drizzled with honey and sprinkled with nuts and cinnamon
Kataifi – Rolled filo pastry filled with nuts and drizzled with syrup
Galaktoboureko – Layers of golden brown crispy filo filled with creamy custard and bathed in scented syrup
Karithopita – Walnut cake spiced with cinnamon and ground cloves
Diples – Thin sheets of folded, fried dough drizzled with honey and dusted with cinnamon and ground walnuts
Festival Favorites
Gyros – Beef and lamb pita sandwich with tomato, onion, and tzatziki
Souvlaki Kalamaki – Seasoned pork or chicken skewers served on the stick with bread and lemon
Lamb Chops – Our famous lamb chops marinated with Greek seasoning and served with fries
Feta Fries – Our delicious fries — with feta!
Tyropites – Greek cheese pies in flaky filo dough
Spanakopites – Spinach and feta pies in flaky filo dough
Beverages
Frappé – Foam-covered iced coffee made from instant coffee
Kafé – Greek coffee
Krasi – Greek wine; the festival features a variety of hard-to-find imported wines
Beer – Popular Greek beer
Ouzo – Anise-flavored aperitif that is a symbol of Greek culture
Greek Dinners
Famous Greek 1/2 chicken
Roasted Leg of Lamb – Slow roasted, sliced lamb seasoned with a blend of Greek spices and garlic
Pastichio – Layers of pasta and ground beef topped with béchamel sauce
Souvlaki – Chicken skewers marinated in lemon, olive oil, and Greek spices and charbroiled over an open flame
Dolmathes – Grape leaves stuffed with rice and beef
Greek Salad – Tomatoes, red onions, bell peppers, cucumber, and feta cheese,. topped with olive oil and vinegar dressing
Pilafi – Rice cooked in broth
Fasolakia – Greek-style green beans
Back again by popular demand, is our Signature Dish – Greek Rotisserie chicken/s with lemon juice, olive oil, and Greek oregano; Gyros (thinly sliced lamb in a pita with a spicy Tzatziki yogurt sauce served with Greek seasoned fries; feta cheese and Kalamata olives in a refreshing Greek Salad; and roasted leg of lamb, as only the Greeks can make.
To fulfill your appetite, we are serving Mezedes (appetizers) like those found at sidewalk café's on the islands of Greece: Pastitsio (seasoned ground beef and macaroni topped with a tasty Bechamel sauce), Spanakopita (filo pastry with spinach and Greek Feta cheese filing), Tyropita (Greek Feta Cheese wrapped in Filo dough), Dolmades (marinated grape leaves stuffed with rice and seasoned ground beef), Greek seasoned chicken, lamb, chicken and vegetarian shish kabobs (Souvlakia).
For your sweet tooth, the ladies of the church bake a wide variety of delicate pastries and deserts including the world known famous Baklava, Koulourakia (traditional Greek cookies), Kourabeithes (melt in your mouth butter cookies dusted in powdered sugar) and Galatobouriko (Greek custard wrapped in filo pastry, sweetened with light honey syrup), Diples (delicately rolled pastry dough, crisped & drenched in honey and sprinkled with cinnamon and walnuts). Last but not least, Loukoumathes. Long Beach is known for their Loukoumathes. 
All of the above are excellent and go very well with a hot cup of fresh brewed Greek coffee (Kafe) or Greek iced coffee (Frappe).